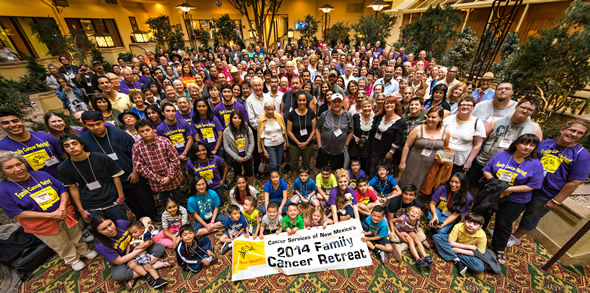 Download the Fall 2017 Family Cancer Retreat Application
Family Cancer Retreat Overview
CSNM's Family Cancer Retreat focuses on educating NM's adult cancer patients/survivors and their primary caregivers on the process of surviving, from the difficulties of handling the initial diagnosis, through coping with therapy, through a variety of medical and social challenges relating to at-home care and the emotional issues associated with surviving. In addition to providing a temporary escape from the day-to-day challenges of living with cancer, the retreat fosters development of supportive relationships between participants that can continue in the months and years ahead. There is no other program like this in NM.
Launched in 2002, the Family Cancer Retreat is now the largest general cancer education program in New Mexico and the largest program of its type in the U.S.
The program is held twice each year. During each three-day program, over 250 people from 100-120 New Mexican families coping with cancer attend sessions led by a variety of the state's leading cancer specialists. Typical sessions include:
Choosing the Most Appropriate Treatment/Clinical Trial
New Developments in Cancer Treatment
"Ask the Oncologist" Panels
Coping with Treatment-Related Side Effects
Accessing Cancer-Related Information on the Internet
Patient and Family Communication
Caring for the Caregiver
Talking with Kids About Cancer
Complementary, Alternative and Integrative Therapies
Hospice and Palliative Care
Cancer-Related Legal and Insurance Issues
You've Completed Treatment - Now What?
Meditation, Yoga and Creativity Workshops
The retreats also provide participants with the opportunity to spend time with each other in informal sessions, speaking with and learning from others who are coping with some of the same issues. Supervised child care and recreational activities are provided for children and teens during the educational sessions so that parents can give their full attention to the program.
To view an additional video overview of the Family Cancer Retreat, please click here.
Funding Overview
There is no charge to participate in the Family Cancer Retreat. The entire program - including meals, lodging, and all educational activities - is provided at no cost to participants; the burdens of dealing with a major illness generally create tremendous financial stresses.
Supporters for our 2015 programs included:
Diamond Level
New Mexico Department of Health
United Way of Central New Mexico
Platinum Level
Amgen
Astellas
Blue Cross and Blue Shield of New Mexico
Onyx Pharmaceuticals
Teva Pharmaceuticals
Gold Level
Albert I. Pierce Foundation
Ethicon Endo-Surgery
Genentech Bio Oncology
Janssen
Northern New Mexico Health Grants Group
Seattle Genetics
Takeda Oncology
Silver Level
New Mexico Cancer Center
New Mexico Children's Foundation
Presbyterian Cancer Network
Southwest Gynocologic Oncology
X-Ray Associates of New Mexico
In-Kind
Albertsons
Baila Dance and Fitness
Battlefield New Mexico
Graphic Connection
Justice League of America-NM
The Printer's Press
Southwest Canine Corps of Volunteers
---
2016 Program Information
In 2016 CSNM will hold two Family Cancer Retreats, one in the spring (April 22-24) and another in the fall (September 9-11); both retreats will be held at the Albuquerque Marriott Pyramid North. Applications for the Spring program are coming soon to oncology clinics and other cancer service providers throughout New Mexico. If you have any questions or would like more information, please contact Mike at (505) 239-4239 or mike@cancerservicesnm.org.
---
Volunteers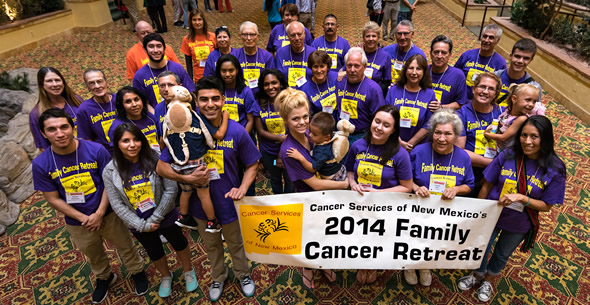 ---
Additional Information
Family Cancer Retreat Presentations